You can impact the lives of numerous children and adults by volunteering to teach in Africa and supporting the work of local teachers.
You don't have to be a teacher to volunteer abroad on our Teaching Projects. You don't need a TEFL or TESOL qualification either. You'll work alongside qualified local teachers and we'll teach you everything you need to know. We also run regular workshops for all Teaching volunteers, where you can get advice, learn new classroom management techniques, and exchange ideas.
You will find a warm welcome awaits you from our students in Africa. Whether you are interested in teaching English, teaching French, or basic computer skills, a variety of opportunities are available in urban, semi-rural, and rural settings.
Choose a Teaching Project in Africa
1-3 of 23 Projects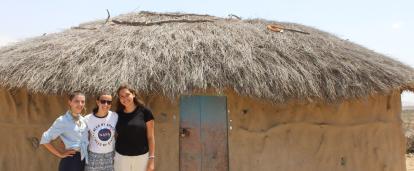 Take a Gap Semester Abroad in East Africa
See this project
Price:

INR422,000 for 6 weeks

Extra Weeks:

INR42,000

Start Date:

Throughout the year

Minimum Duration:

6 weeks

Age:

17-24
Volunteer Teaching in Romania
See this project
Price:

INR216,400 for 4 weeks

Extra Weeks:

INR24,800

Start Date:

Anytime

Minimum Duration:

4 weeks

Age:

16 or over
Take a Gap Semester Abroad in South America
See this project
Price:

INR588,500 for 8 weeks

Extra Weeks:

INR47,000

Start Date:

Throughout the year

Minimum Duration:

8 weeks

Age:

17-24
Load More
Can't find what you're looking for?
We'd be happy to talk about creating a custom project for you. Most of our staff have been volunteers themselves, so they're well placed to answer your questions, big or small.
+91 9999850304
or email:
Get in Touch
to start planning your project
What's it like to teach in Africa as a volunteer?
Schools in Africa are often understaffed and poorly resourced, but you can help to improve this situation by volunteering your time in the classroom.
Often you will find that the only tools you have are a blackboard and a piece of chalk. This can be both challenging and exciting, as you have the freedom to use your creativity and think outside the box. You may find that the greatest tool and bridge for effective learning is yourself. The students will want to find out about you and the country you come from. They will want to know why you have chosen to come and teach them.
The amount of timetabled English lessons per week that you will teach varies depending on the country and even the individual schools. In some countries you will be expected to be at school during the entire working day, but you may just teach two or three classes, in other cases you may just teach in the morning for example. You will also need to take time to prepare your lessons and you may often be asked to mark students' work. Many volunteers choose to help out in other areas too, taking students for sports, drama, or music lessons for example.