Why Choose Projects Abroad?
At Projects Abroad, we are proud to offer volunteer projects, work experience placements and language courses of the highest quality. Founded in 1992, Projects Abroad has now sent over 60,000 volunteers from all walks of life to thousands of volunteer projects throughout the world. In every community overseas we employ full time local staff to ensure that our volunteers work on worthwhile local programmes and that they are well supported and safe.
Of course there are a number of organisations which offer similar programmes to us and we are often asked what sets us apart.
Here are some of the factors that set Projects Abroad apart from other volunteer organisations and that we feel are important to consider when contemplating such a significant adventure.
Display all
Our Experience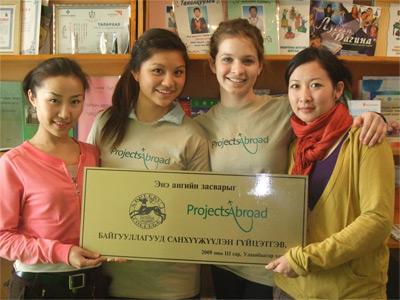 Since Projects Abroad began over 20 years ago we have placed over 60,000 volunteers on meaningful projects throughout the developing world. But don't just take our word for it, read some of the hundreds of Volunteer Stories written by former volunteers.
We have a team of over 600 full-time staff members worldwide. Many are former volunteers themselves. Some are even part of the original groups of volunteers who joined Projects Abroad back in the early 1990s. Others are experts on the local communities you are working in, having spent their whole lives there. They have vast experience in fields such as community development or education.
Please take a moment to familiarise yourself with our Operations Team and Staff in our Destinations.
Flexibility & Variety
The options with Projects Abroad really are limitless. Through our local staff and our long associations in each country, we now work with over 1,000 different projects. If that is not enough, we can always create new and individually designed placements using the resources and experience we have, including tailor-made group trips.
This enables us to match volunteer skills and aspirations to a suitable placement. Volunteers join us when it is best for them. There are no set start dates and programmes run continuously throughout the year, so we can easily fit to your schedule. Whenever volunteers arrive and at whatever time, our staff are waiting at the airport for them with all the details for their project fully prepared.
This flexibility also allows people to combine projects, to live and work with friends, and to work at the placement which inspires them most.
Worthwhile Projects
The idea of "worthwhileness" is what drives every project. By this we mean that every project we offer has been arranged by us to be worthwhile to you and the organisation you're volunteering for.
To make this happen, we are constantly challenging our local staff to improve the support we offer the projects and to improve the volunteer experience. Continuous improvement is key.
Our local staff are an amazing group of people. Some are social workers, some conservationists, other are teachers, lawyers, doctors or experienced NGO employees. They understand what placements are needed in relation to developing and benefiting the local community and economy.
Our local staff are part of the community: committed to it and, like Projects Abroad as a whole, committed to long-term sustainable positive impact through the combined efforts of our volunteers.
We pride ourselves on the support we give to an enormous breadth of existing placements across the globe. Through our local staff, we are able to establish new programmes and initiatives wherever they are needed.
We also take worthwhileness very seriously when it comes to working with children. Read about our policy on this matter and how we make sure that our projects benefit both the volunteers and the local children involved.
Quality Accommodation
A big motivation for going abroad is to immerse yourself in the culture where you will be working. Projects Abroad knows living with a local host family is the best way to do that. You do not want to live in a bubble while you are abroad.
You will not live with just any family. Our families are carefully chosen for security, comfort, and friendliness. Many hosts are associated with our programmes - for example, a teacher at one of our partner schools or a doctor at one of our medical placements.
Your room will be modest but comfortable. Host families live in secure houses and neighbourhoods and are closely screened and monitored. We have regular checkups, including before every new volunteer moves in.
We also ensure they can provide you with quality home-cooked meals. Food is at the heart of a society so be ready to eat your fill of the local cuisine!
In line with our commitment to being a positive influence in the communities we work, host families are paid fairly. They are also interviewed for friendliness and to make sure they are motivated by the right reasons. They will welcome you into their family and home and be eager to share their customs with you and have you teach them about your own culture.
There are some locations where using host families is not possible. This is mainly on the majority of our Conservation Projects and in China, Cambodia and Vietnam, where volunteers live in a shared apartment or house. But we still evaluate your accommodation for quality and comfort. Your food will still be provided for you by Projects Abroad as well, usually by a local cook.
It is also possible to volunteer with your friends from home and even if you are doing different projects we can often accommodate you together if you would like. Just request this where we ask on the application form.
Volunteer Community
By going on a Projects Abroad placement, you are joining a community of fellow volunteers and local people in developing countries. You will all be working hard, travelling, and having a good time while achieving worthwhile goals. You will make great friends with your host family, colleagues, and the people living in your host community. You will also make great friends with some of the thousands of other Projects Abroad volunteers we send abroad each year.
We have had volunteers come from around 40 different countries to date, and we are always receiving interest from new parts of the world. Our volunteers are from all walks of life – students, professionals, families, retirees. Some will be going abroad for the first time; others will have stories to tell of diverse travels.
You will not only learn the traditions and customs of the country you are volunteering in, but also those of your fellow volunteers. You can also take part in the exchange by teaching your colleagues about the favourite parts of your culture.
Most do not realise this multicultural aspect of Projects Abroad until they arrive, but it is a distinctive part of our unique appeal. You will return home with friends from across the globe and plans to visit them someday, or host them back in your country.
Going the Extra Mile
In addition to the standard safety and backup Projects Abroad assures every volunteer, our staff will really go the extra mile for you if you need it. If you are uncomfortable with commuting by bus to your volunteer placement after we show you during your orientation, we will take the bus with you again. If you are feeling homesick or having trouble coping with culture shock, we will sit down with you to lend an understanding ear and share our experiences. If you get sick or injured while abroad, we will take you to the hospital and be there for you until you are better.
This begins before you even arrive overseas. If your placement is relevant to your university course we can help by writing a verification letter, filling out paperwork, or speaking with your university. If you are using your time abroad for research or a dissertation, we can help you design your plan of study; many of us have academic backgrounds ourselves.
If you had plans to go abroad by other means that fell through at the last minute, we will pull some strings to get you abroad on one of our programmes as soon as possible. If your visa gets denied, we will call the embassy to lobby on your behalf.
The fact is, we care. It is important to us that you are a happy volunteer, because happy volunteers are productive volunteers and make the greatest impact.